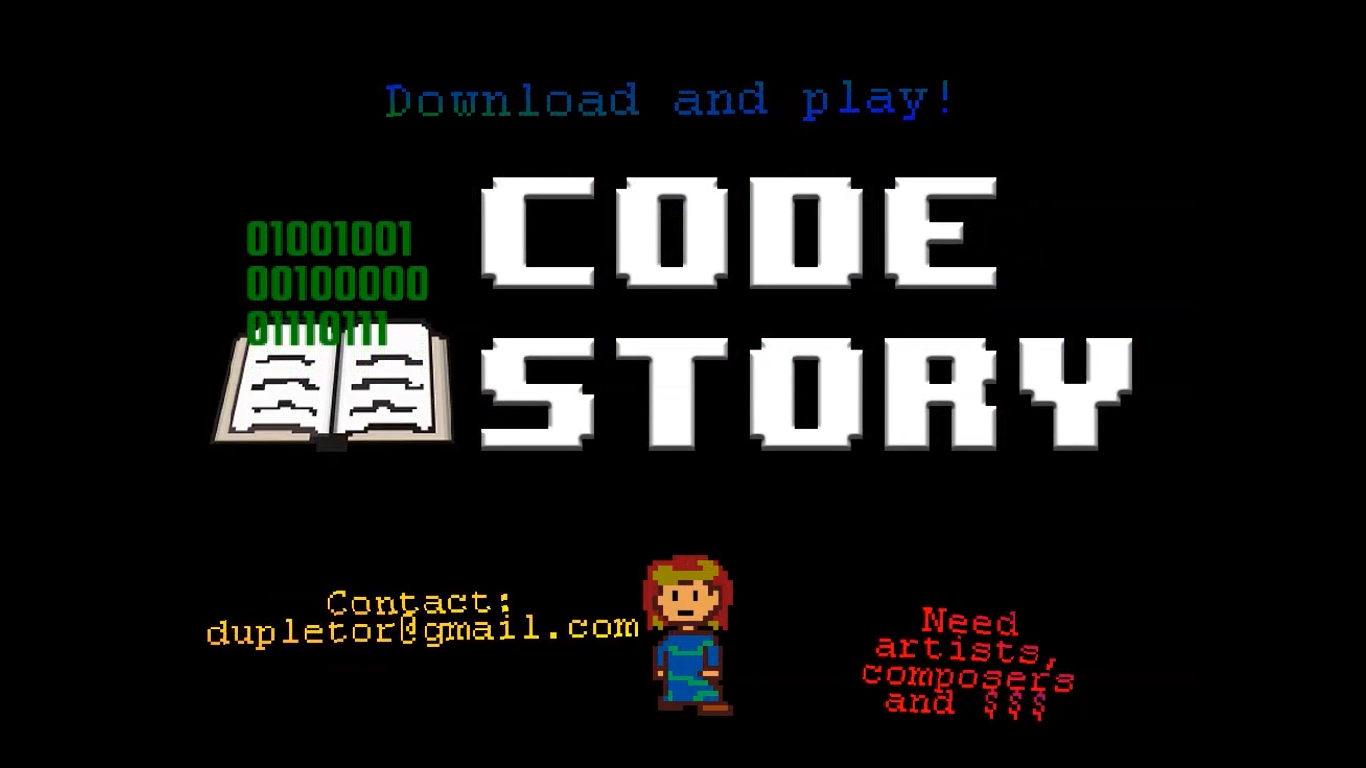 CodeStory
An RPG that learns with the player as much as the player learns with it. You, as the player, are aware of properties this world has that it itself is not, so you can teach them while you explore this world, and you will do it with complete freedom.
INTRODUCTION NOT IMPLEMENTED. Please comment on current design:
This project is in early development, with only the first civilization done in story, eight to go. However, before the others are started, the first civilization will be completed. The first civilization will be a special Demo version that will be used to promote the entire thing. Currently need to be developed:

Art for every character.
Music for every section.
Intelligence for every fight except for two.
A new Panel UI with more badass information.
Some items to help you in your journey.
Some linearity fixes, you will be able to leave the first civilization without completing the first civilization plot. Currently, if you try, the game breaks.

Most mechanics are however stable.


Next step:
Panel UI, finding people for graphic art and music development.

For bug reports or services, send an e-mail to dupletor@gmail.com
F.A.Q:

This list will be filled with most frequently asked questions.

Have a nice day, and thank you for playing!
UPDATE:
Portal appears on Desktop
Mountain does not destroy items
Logo exists in main menu. -- Oops!
Special riddle room working properly now and updated with hints!
Now you NO LONGER have to wait 10 seconds after closing the game for re-opening it! The technology is not stable, but closing and re-opening eventually makes it work.


With a new prototype, I have successfully solved having to:
- Click the character to move it outside of the game

However, this build was not updated into having these properties yet.


HUGE NEWS!
After a very long time, I have finally decided how the combat system will work!!!
- You will be able to combine elements and control the world at will in real time.
- Not exactly like Magicka, in a brand new consequential way!
- Throwing weapons will be removed.
- Classes will be removed.

The characters are currently being remade, none of the arts in the provided file are final. The ones in the screenshot are closer to what they will become.

Download
Click download now to get access to the following files: